The primary aim of this course is to prepare students for technical design positions in the global sewn products industry. Throughout this course, students apply and hone your apparel, design, construction, and professional illustration skills to translate design concepts into garments through an iterative design process. Students learn to generate technical specifications, evaluate samples, conduct fit sessions, and communicate changes in the tech packs. Students who take this course will be able to autonomously create garment specifications with confidence because they have experienced the daily activities of a Technical Designer.
Cotton in the curriculum Sponsorship
In 2018 and 2019, this course was supported by a grant from the Importer Support Program of the Cotton Board, supervised by Cotton Incorporated.
The goal of the 2017 project was to develop a semester-long experiential learning product development project to increase students' awareness of advancements by Cotton, Inc. to enhance the functional properties of cotton. The project was implemented in a junior-level Technical Design course and funded through a 2018 Cotton in the Curriculum grant titled, "No Sweat: Teaching the next generation of technical designers about cotton performance technologies."Specifically, this project leveraged TransDry®, PurThread®, and StormCotton®, cotton performance technologies to enhance student learning. The project followed a problem-based learning pedagogical approach and the student technical design projects had a user-centric focus. The students developed performance apparel products for underserved target markets.
Specific Learning Objectives:
Develop professional technical packages
Develop a complete specification package, including technical sketches, construction detail call-outs, points of measure, measurements, tolerances, grade rules, bill of materials and any predefined performance standards for multiple styles of garments.
Evaluate garment samples and communicate changes in a visual language
Evaluate garments to determine compliance with spec, construction, fit, product design, styling/aesthetic, and performance standards.

Identify potential production, quality, costing, and design issues and make appropriate recommendations.

Use strong communication skills to work through specification, construction, or fabrication issues with potential vendors.
Use CAD Software
Optitex PDS 12

Create garment patterns, markers, and 3D visualizations of garments using Optitex.

Microsoft Xcel

Compile Tech Packs/Specifications

Adobe Creative Suite (Illustrator, Photoshop, Acrobat)
Learn about functional clothing design principles
Enhanced understanding of fiber and fabric characteristics

Sewing knits

Functional clothing principles: mobility, materials, smart clothing and textiles, thermal protection, impact protection, and environmental considerations.
Apply user-centered design strategies to enhance the technical design of garments
Creatively apply user needs that improve the design and use of your proposed garment.
Culminating project video
As part of the dissemination plan in the grant proposal, we developed We developed a comprehensive project video posted on YouTube.
Team Projects
In teams of two, students were challenged to to develop functional performance apparel products that address a real-life apparel problem for an underserved target market by using technologically enhanced cotton fabrics to add value and increase the performance qualities of apparel for their end-users.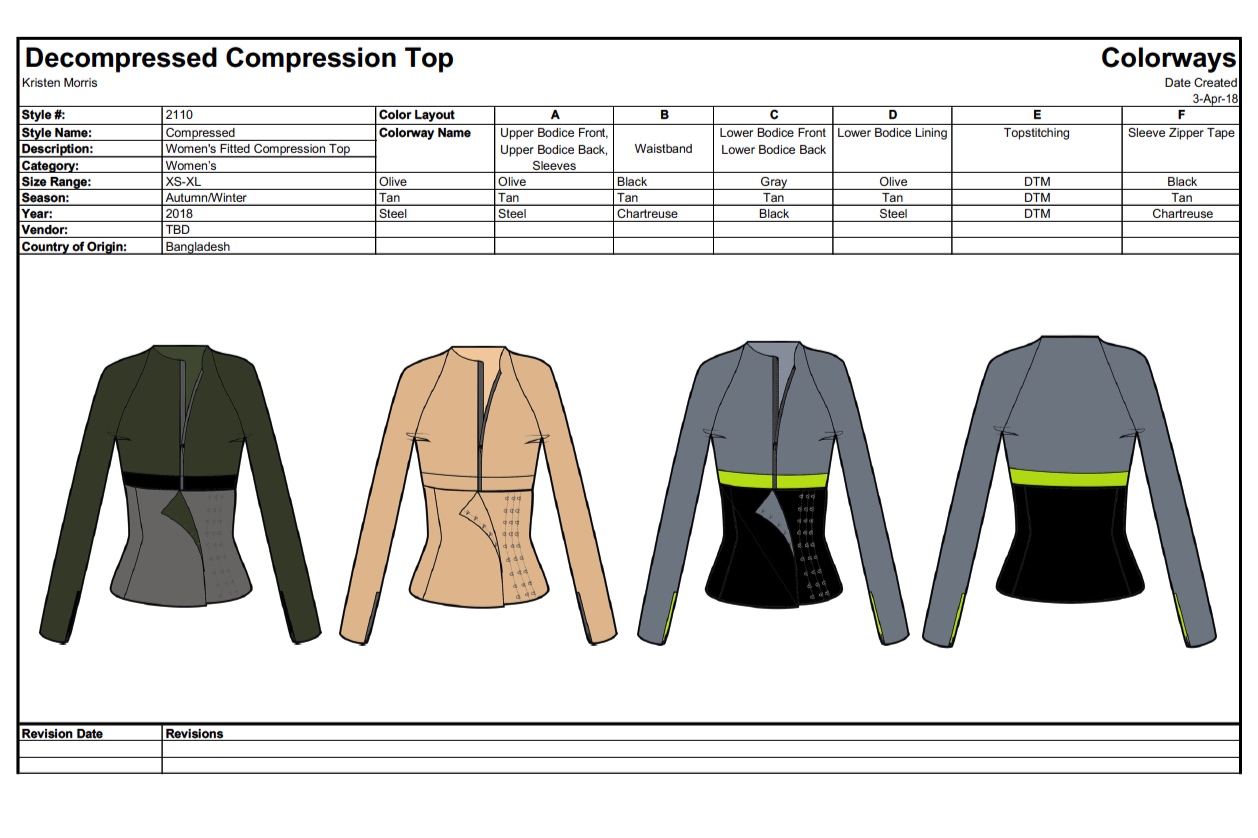 The students developed tech packs for each garment in their design.
Instagram
The entire technical design process was documented on Instagram @mizzoutechdesign